For the longest time I had wondered what this "DVD" was about. Such a nice cover art of Kaoru and Kenshin together. Well I finally broke down and bought it!
Below you will see the back cover of the DVD with a listing of the DVD tracks. All Japanese in 4:3 aspect ratio and Japanese language only.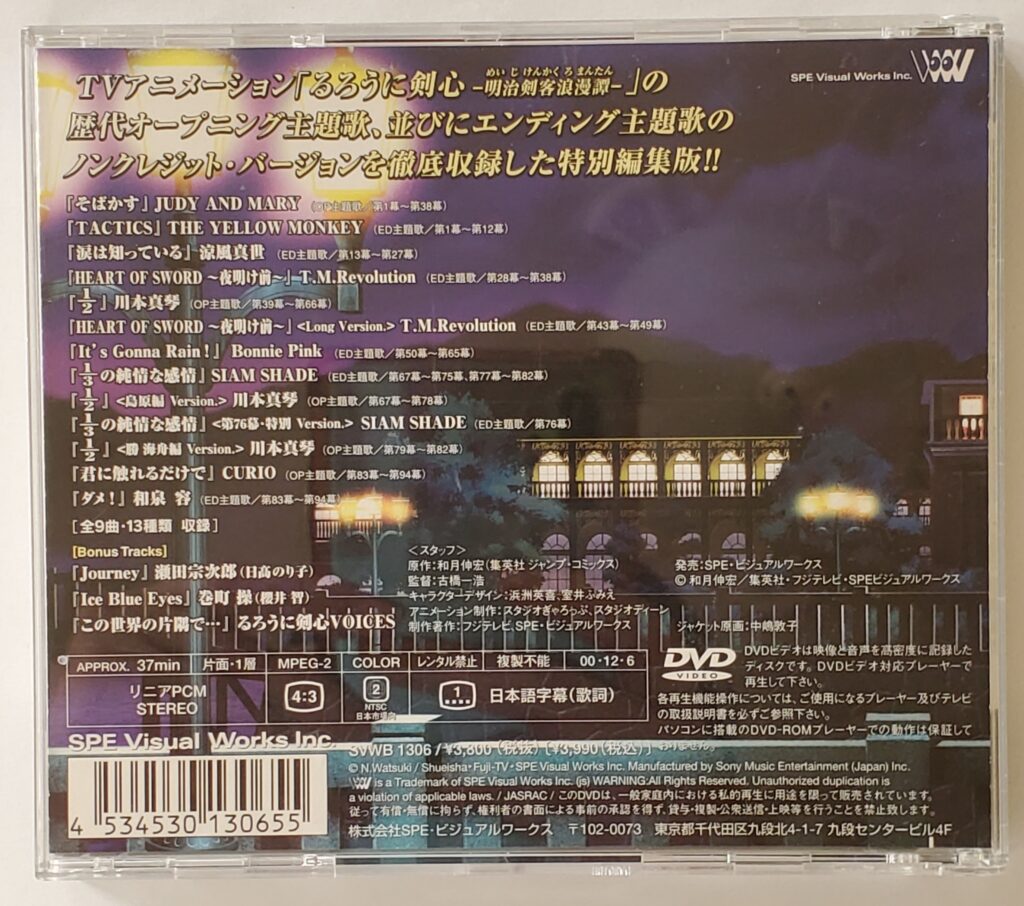 Below is the CD and inside pamphlet. Not much here. But what is this all about? Well firing it up we know that it is Opening and Ending song of the TV Anime but they all have Japanese subtitles. I suppose maybe the expectation here is you can sing along? Do your private mini-karaoke party Kenshin style?
And the insert has the credits and the playlist. I will call out that the last 3 music videos on this is excellent. Well most of RK's Opening and Ending songs are good but the last 3 is something unique to this DVD and of course they're part of the bonus tracks.
Bonus Tracks:
Journey – the AMV is of course focused on Seta Soujirou. This is his character song after all!
Ice Blue Eyes – this AMV seems to be dedicated to all Aoshi x Misao fans (shippers!). Watch it if you like Aoshi or Misao or both of them "together". *grins*
Kono Sekai no Katasumi de – And this AMV is a feel good AMV in general but it does somewhat focus on Kenshin and Kaoru.
Here's a couple of music videos from the DVD so you know what to expect when/if you buy the "Rurouni Kenshin Theme Music Picture Scroll". Wow! That's a mouthful…
Journey (Seta Soujirou) – upsampled from DVD to 4K
Ice Blue Eyes (Misao, Aoshi and the Oniwabanshu) – upsampled from DVD to 4K